B
uilt in the late 1930's, the Silver Point Beach Club has served as Atlantic Beach's largest and most affordable beach club for more than 80 years. Encompassing more than 100 acres of pristine beach front property, our club provides more room for swimming, surfing, sunbathing or just relaxing than just about any other beach club in the Nassau County and New York City Area.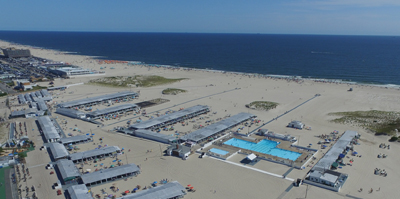 "More than 100 acres of pristine beach front property"
The impressive beauty of our club has caught the eye of Hollywood scouts and directors who have chosen to film on the extensive club grounds. Vogue, Glamour, Vanity Fair and Interview Magazines, the History Channel, Guinness Beer, Christian Dior, Ferragamo, Neiman Marcus and TV shows "Elementary" and "Forever" along with many others have all filmed scenes in our wonderful club.
See photos and video from our various shoots.
Perhaps the greatest testament to our club's charm and allure are the hundreds of families that return year after year. Generations of families call the club home, many of whom have spent every summer since childhood enjoying all the amenities and activities the club has to offer, such as:
Olympic Size Swimming Pool
Kiddie Pool
Pristine Beach Area
Day Camp
Tennis Courts
Playgrounds
Paddleball Courts
Basketball Courts
Beach Volleyball Court

Bocce Courts
Softball Field
Gameroom
Cafeteria
Children's Activities
Live Music
Spacious Accommodations
Cabana Attendants
Free Parking*
Join Today
and enjoy all our club has to offer you and your family!
* 2 Free Parking Passes per Cabana, 1 Free Parking Pass per Cabanette and Bath Cabin rental. Additional parking passes are $50.00 plus tax. Parking fee is $5.00 on weekends and holidays - free during the week.